Monthly Meetings
The Society meets the third Thursday of each month at the HCGS Research Library, 611 N. Davis St., Sulphur Springs, TX, 75482, at 7:00 p.m.
Programs during these meetings are free and visitors are always welcome.

The Society does not meet in June or July.  The August meeting is usually a joint meeting with the Hopkins County Historical Society at Heritage Park.
Live too far from Sulphur Springs to come to the HCGS monthly meetings?

Join us via Zoom! Registration in advance is required. After registering, you will receive a confirmation email containing information about joining the meeting. HCGS members and supporters who are on our email distribution list already receive our monthly meeting notices. If you are not currently on our distribution list and would like to receive the monthly meeting notices, please send an email to hcgstx@suddenlinkmail.com
2023 Speakers List
September 21st – Bill Covington
Our speaker for September is Bill Covington, a public-school classroom teacher by profession, having spent 31 years in the classroom where he taught Social Studies and English as a Second Language (ESL). He taught in Dallas ISD and Waxahachie ISD. For the last 13 years, he was an instructor of Dual Credit US History, World History and Government/Economics at Waxahachie Global High School, in Waxahachie, Texas. Concurrently, he also served as an adjunct instructor of Western Civilization, US History, Texas History and World History at Navarro College, also located in Waxahachie, Texas. He is married to June Renee Jacobsen Covington and they both reside in Cedar Hill, Texas. They have three grown children and two grandchildren.
Bill was the TXDAR State Winner of the 2017 Outstanding Teacher of US History Award.
Mr. Covington will be speaking on the "Early Anglo-Americans in Spanish Texas".  This is a particularly interesting  subject for native Texans, but native Texan or not we hope you will join us at 7:00 p.m., 611 N. Davis St., Sulphur Springs, TX.   Hand-outs to accompany this informative talk will be provided.
If you cannot join us in person, we invite you to join us via Zoom:
When: Sep 21, 2023 07:00 PM Central Time (US and Canada)
Register in advance for this meeting:
https://us02web.zoom.us/meeting/register/tZIpce-sqz8uHdB9NIrZTFni55LnEPdrFD2Z
After registering, you will receive a confirmation email containing information about joining the meeting.  Hand-outs will be emailed to you the day of the talk.
August 24th – Paula Altenbaumer
The Hopkins County Genealogical Society's annual joint meeting with the Hopkins County Historical Society was held Thursday, August 24, 2023, at 7:00 p.m., in the Winifred Building at Heritage Park.   Paula Altenbaumer portrayed Hopkins County historical pioneer Mary Ann Hargrave McLaughlin.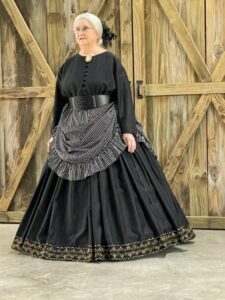 Paula, a member of both societies, presented a historical portrayal that was informative and entertaining for the 50 or more members and guests attending the meeting.  Her depiction was of Mary Ann Hargrave McLaughlin, a descendant of one of Hopkins County's earliest settlers' families.  Her first-person delivery illustrated how as a 6-year-old child along with around 18 other family members traveled from Indiana to Texas by ox wagon and arrived in the Sulphur Bluff area in 1842.
The next year about two dozen more of the Hargrave family arrived and settled, along with their offspring, in what is now the Nelta and Birthright areas in the northern part of the county.
Paula who has portrayed numerous colorful figures of the past wanted everyone to know that the Hopkins County Genealogical Society Research Library offers an incredible amount of information for those interested in doing historical or genealogical research.
2022 Speakers

2022 Speakers List

April 21st – Speaker Jennifer Hudson Connors

Our speaker, Jennifer Hudson Connors is a 3rd generation genealogist, having inherited the bug from her mother's side of the family. She inherited a love of motorcycling from her father's side. As a recently retired librarian, she now combines these interests with travel to courthouses and cemeteries. She is 1st Vice regent of the Mineola chapter of the Daughters of the American Revolution and is working on her second novel based on family history research.

"Family History in Context" – We all search for the vital statistics of our ancestors. This talk will explore those facts in the wider context of the 1918 -19 Influenza Pandemic. Jennifer Hudson Connors will encourage you look at your family history through the events of their day and document your own materials in a meaningful way. In person & zoom virtual meeting 7pm

May 19th – Robin Cole-Jett  

Robin is the Red River Historian. For over twenty years, she has researched, documented, and shared the history of the Red River Valley of the Southwest through her website, presentations, books, articles, social media, and even a few TV appearances. A born Texan with family roots all over the Red River Valley

"Ye Olde Roads" – One of the more interesting aspects of genealogy research isn't necessarily an ancestor's life records. In a country where most citizens have immigrated or were forcibly moved, discovering the roads, paths, trails, and traces they took can be equally rewarding. In this presentation on "Ye Olde Roads," Robin Cole-Jett, the Red River Historian, will uncover stagecoach routes, emigration trails, and more in the North Texas region.