Welcome to the Hopkins County, Texas Genealogical Society's Website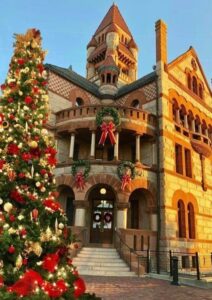 Welcome to the HCGS, where history and heritage meet. We invite you to browse our extensive collection of Hopkins County records and consider becoming a member of our society. Our latest additions feature newspapers, maps, and a searchable probate index.
Exclusive member access unlocks a wealth of records, enriching your Hopkins County genealogy research.
In observance of the Christmas holiday, the library will close at
5 pm on Thursday Dec 21st and will reopen on Tuesday Dec 26th at 9:30 am.

One-of-A-Kind Gift Idea
The Hopkins County Genealogical Society is now accepting orders for its latest publication – Mel Haven Cemetery by Rhonda Bechhold and Carole Ann Smith for HCGS.
The cover of the book is an accumulation of photos of some of the markers found at Mel Haven Cemetery, including veteran markers and some ornate hand-tooled markers.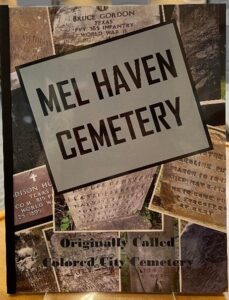 The book is bound using the Unibind system with clear covers allowing the front and back of the book to be seen.  The table of contents shows the progression of the work done regarding Mel Haven Cemetery.  Within the 93 pages of this book is a history of the cemetery, tracing it back to the deeds of land both purchased and gifted to the cemetery.  While weaving together the history of the cemetery, it was discovered that the first person buried in what would become the "Colored Cemetery" was a personal servant of a local Civil War veteran.  Also included are color photographs documenting "Operation Restore," involving a clean-up of the cemetery. All the graves in Mel Haven Cemetery have been indexed, sorting the ones with markers and the ones without markers.
For those ordering this book in advance of printing, the price will be $25.00.  This price will be good through November 30, 2023.  After December 1, 2023, the cost will be $30.00.  You may place your order by calling HCGS at (903)885-8523, emailing hcgstx@suddenlinkmail.com or visiting the library at 611 N. Davis, Sulphur Springs, TX.
Back Issues of Hopkins County Heritage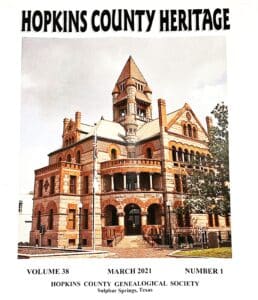 We are now offering for sale  ALL of the Hopkins County Heritage back issues on a single flash drive!! (Includes every issue from the beginning in 1984 to June 2017). Each flash drive contains two folders – one folder contains individual issue PDFs and one folder contains a single PDF of the complete set. It is word searchable so that you can easily locate surnames or search terms in any single issue or in the complete set! And travels with you easily to libraries or on research trips!
The cost is $50 (plus $4 for shipping and handling) and can be purchased by contacting  the HCGS library.
Sulphur Springs Montage
The Society was one of four Sulphur Springs locations chosen to sell the amazing new Sulphur Springs montage. It is approximately 17 1/2 inches x 22 1/2 inches.  The montage depicts businesses, events, and many historic buildings along with several early civic leaders. The artist  created it in two versions. The prints sell for $10 and the signed  & numbered Collector's Edition sells for $100.  Please come by the HCGS library to see this beautiful work of art!
About The HCGS Research Library
Over 8,000 Titles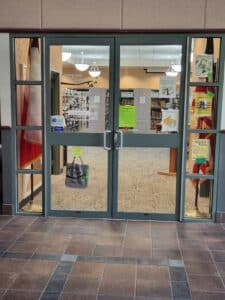 The HCGS Research Library houses original county records, maps, family collections, scrapbooks, 1000's of photographs, and numerous original materials. Note, current Saturday hours – open 2nd Saturday of each month from 9:30am to 1:00pm.
Click here for more details about the HCGS Research Library.
FamilySearch.org Affiliate Library
The HCGS Research Library is an affiliate library of the LDS in Salt Lake City, Utah, which houses millions of digitized restricted records covering most counties in the US as well as worldwide. These restricted images, viewable from our computers, allow our patrons to travel to locations and view many records including court house records such as deeds, wills, probate cases, etc. from the convenience of our HCGS library. Use their catalog to discover what records might be of interest. (FamilySearch Help Center topic 55954 helps to explain how to use their catalog.) And if your county/country of interest has not yet been digitized you can contact FamilySearch to request that they digitize specific films. You may request up to 5 rolls of films in one interaction. For specific details on how to do this by phone, chat, or email go to FamilySearch's Help Center and view help topic 469883.
Hopkins County Texas Research Guide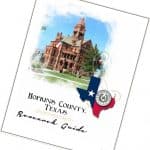 Professional genealogist and former Hopkins County resident Cyndi Harlin has graciously shared her Hopkins County Texas Research Guide. This expertly created guide gives numerous tips  and areas to explore to help aid your  research in Hopkins County. Check out this useful and  beautiful booklet by clicking here.